Access & Cargo Tower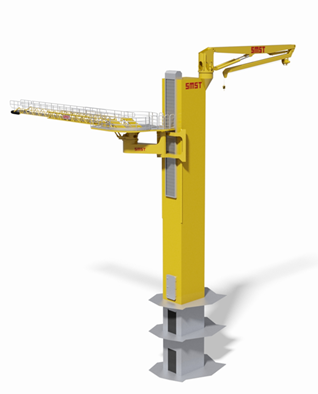 The SMST Access & Cargo Tower is the best choice available to ensure safe and efficient transfer of personnel and goods to offshore wind turbines or offshore platforms.
The system is an integrated system for stepless transfer of personnel and cargo from multiple deck levels up to the turbine platform. To ensure comfortable crossing and maximum workability, the height of the access bridge can be adjusted to the landing height of the platform. The integrated elevator with capacity for a cargo pallet and personnel always stops at the access bridge level.
The motion compensation system compensates the movements of the tip of the bridge by three movements, namely the slewing, telescoping and luffing movements. Compensation can be active as well as passive.
SMST has an excellent track record of designing and delivering special equipment for the offshore industry, which is also evidenced by this recent innovation.
« Back to overview