Telescopic Access Bridge range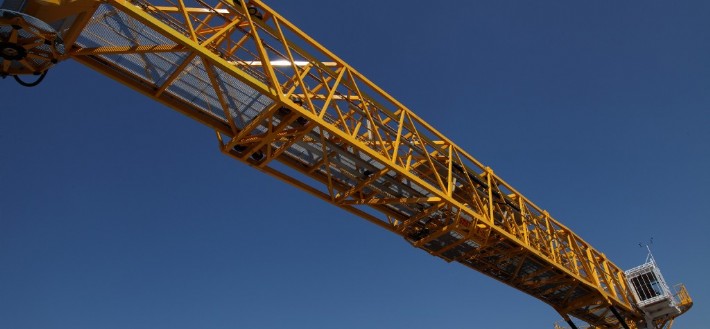 SMST provides a range of Telescopic Access Bridges (TAB) that can safely transfer personnel to an offshore structure or the quay side. The bridge's main functions are luffing, slewing and telescoping to continuously compensate motion and displacements.

The range of access bridges is subdivided into 4 categories: S, M, L and XL. The smallest solution (S-version) has been designed for the 13.5 meter fast offshore craft, which is also part of the SMST product range. By mounting the access bridge on the vessel, personnel can safely and cost-effectively be transferred. Due to the bridge's motion-compensated system, the stability of the craft is unparalleled. The M, L and XL versions of the Telescopic Access Bridge have been designed for both walk-to-work application and cargo handling. The balanced construction provides for easy access to wind farms and accommodation platforms with low power consumption and minimal space requirements. The access bridges vary in length up to a maximum of 58 meters.

All our Telescopic Access Bridges are designed and built according to DNV and ABS.
Available ranges
| Type | S | M | L | XL |
| --- | --- | --- | --- | --- |
| Range | 4 - 12m | 16 - 30m | 19 - 41m | 28 - 58m |
| Vessel type | Crew transfer vessels | W2W vessels | Accommodation & W2W vessels | Accommodation vessels |
SMST has also developed a Telescopic Access Bridge & Crane (TABC). While it has the same principles as the TAB, it combines the access bridge with a Telescopic Boom Crane. This crane has been designed for a wide range of deck and offshore lifts and handlings. This concept has also been provided with Active Motion Compensation.
If you want to know more about the TAB and TABC, please contact us.
« Back to overview