SMST equipment onboard Acta Auriga at Ulstein Verft
13/02/2018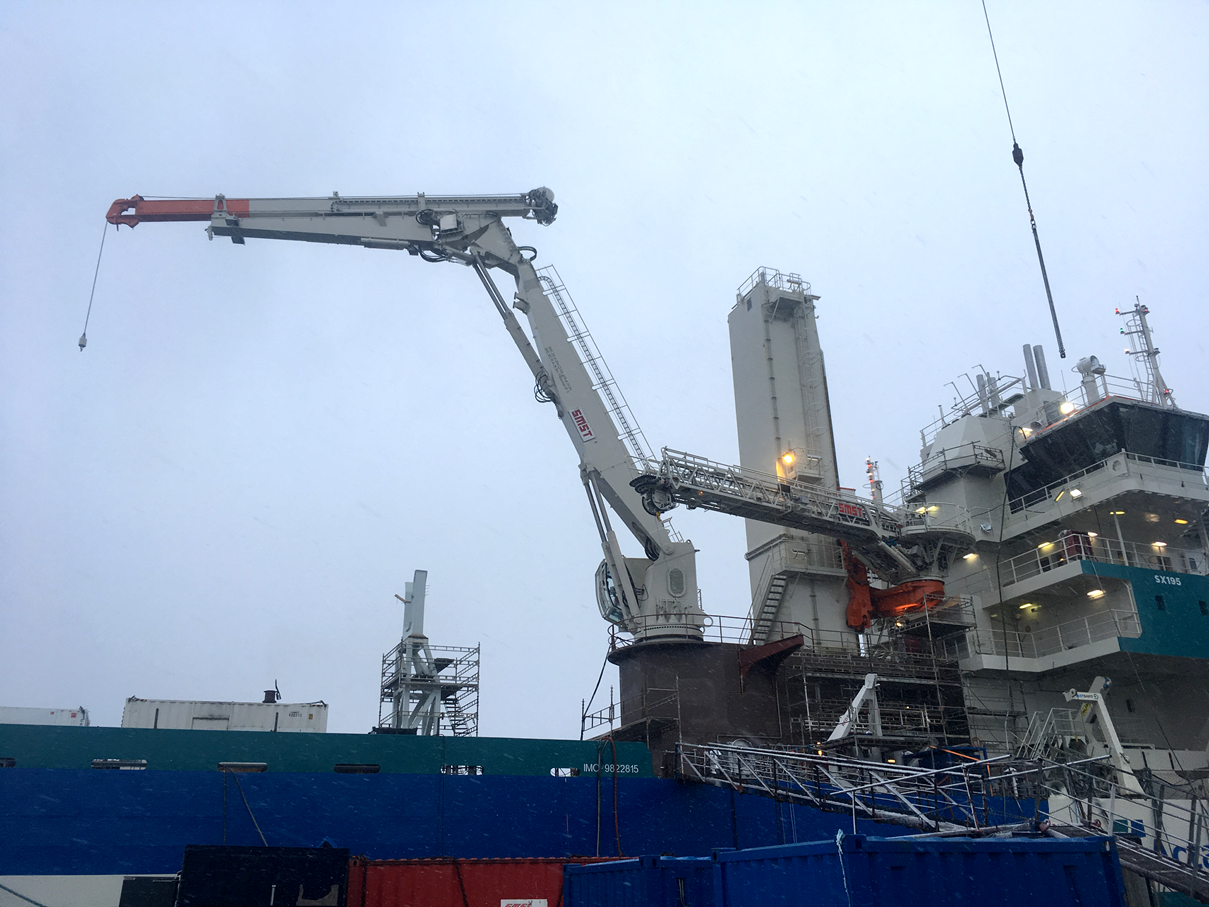 The outfitting and completing of Acta Marine's new walk-to-work vessel Acta Auriga at the Ulstein Verft in Norway is progressing well and on schedule. The installation of the SMST provided mission equipment has commenced early January with installing the 3D Motion Compensated Crane and Access & Cargo Tower. Last week, the system's motion compensated gangway, the Telescopic Access Bridge L-Series, has been delivered on board the new built DP2 Service Operation Vessel (SOV). 
By incorporating SMST's motion compensated knuckle boom crane, Acta Marine increases the operational workability of the Acta Auriga, built to Ulstein's SX195 design. The motion compensated knuckle performs 3D compensated lifts up to 6 ton and provides a large operational window enabling the vessel and its crew to operate in harsh sea conditions (up to Hs 3.0 meters). SMST's personnel is at the Ulstein Verft for installation, commissioning and testing of all delivered equipment.
The Access & Cargo Tower, that combines a gangway and elevator, enables safe and stepless transfer of personnel and cargo from vessel to offshore structure, up to a significant wave height of 3 meters. The landing height adjustment system of the Access & Cargo Tower travels to platform heights up to 23 meter. The SMST supplied remote controlled Cargo Transporter brings cargo of 400 kg from below deck, via different deck levels, to the offshore structure.
By end Q1 2018 Acta Auriga will be ready for delivery. The SOV is dedicated for walk to work, offshore logistics and accommodation services for a variety of clients in the offshore industry. After delivery, the Acta Auriga will undergo trials and start its first work at OBE's Bard Offshore 1 wind farm in the German North Sea.
« Back to overview