SMST equipment ensures safe W2W for newbuild CSV Rem Energy
19/01/2021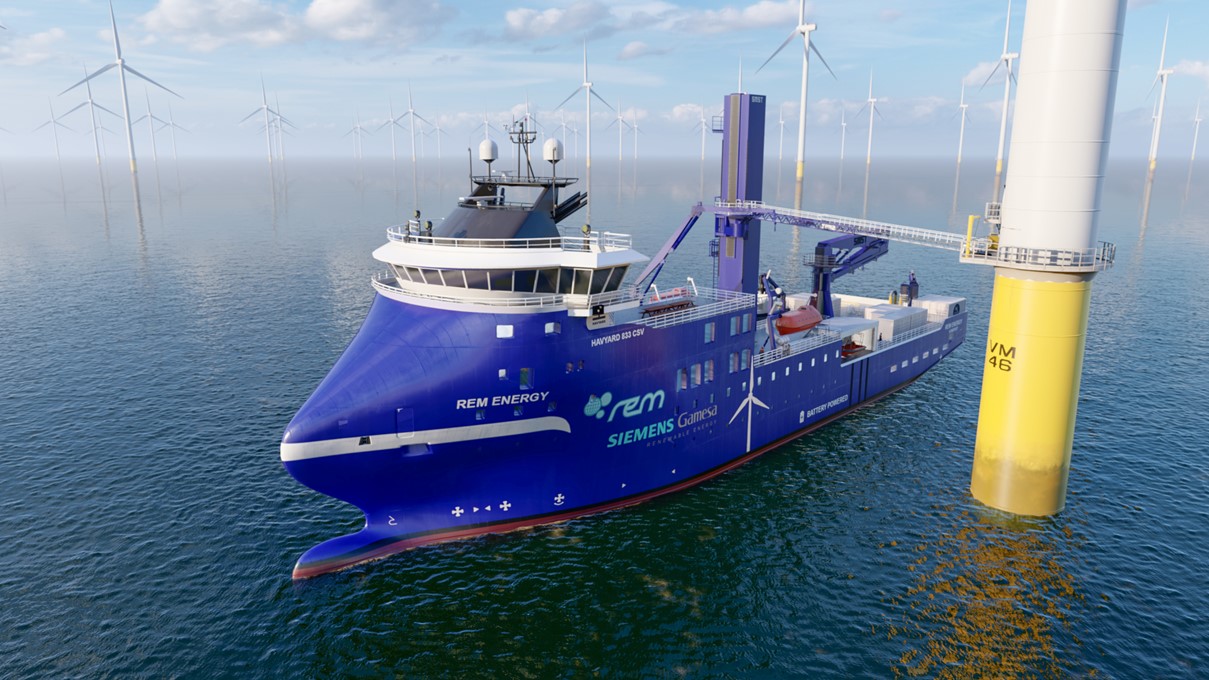 In December 2020, Rem Offshore AS has signed a contract with Green Yard Kleven in Ulsteinvik for the building of the Construction Service Vessel (CSV), Rem Energy, for performing maintenance on various offshore wind farms in Germany. SMST will contribute to this newbuild CSV by delivering its safe and efficient walkway and lifting solutions, including cargo handling options. With this delivery SMST meets the strong focus of the vessel's design on safe walk-to-work operations and secures an optimal workflow.
Recently, also the contract between Green Yard Kleven and SMST was signed. SMST will deliver a modular system package consisting of an Access & Cargo Tower with elevator and motion compensated gangway and a 3D motion compensated crane. The SMST mission equipment helps to safely transfer Rem's maintenance personnel and cargo to the offshore wind turbines. "By delivering their walk-to-work equipment to Rem Energy, SMST assures a thorough and proven execution of the vessel's design principle", says Ronny Pål Kvalsvik, Technical & Purchasing Manager at Rem Offshore AS, "Future requirements regarding the safety of people and goods are secured."  
The vessel, designed by Havyard Design & Solutions AS, will serve a five year contract for Siemens Gamesa Renewable Energy in the Global Tech 1 offshore wind farm. To increase the operational flexibility of the vessel, SMST's motion compensated gangway can operate on both starboard and portside. The landing height systems of the Access & Cargo Tower provides access to platforms up to 12 meter above sea level. "With this maximum flexibility can be achieved in the current project, but also in future offshore wind farms of Siemens Gamesa in the North Sea and Baltic Sea", says Jelle Dijk, Sales Manager at SMST.
SMST is excited to contribute to the project in the Global Tech 1 offshore wind farm, in two perspectives. "Our newest type of rental gangway, the so-called Telescopic Access Bridge L-Series, is successfully operating on board the Rem Inspector since November 2020", explains Jelle Dijk, "This vessel will perform the role as a frontrunner to the newbuild, executing its windfarm maintenance operations. We are very pleased with our close cooperation with Rem Offshore AS and will proudly support them in current and future projects."
« Back to overview